Mercy Ships brings hope and healing to the forgotten poor by mobilizing people and resources worldwide, and serving all people without regard for race, gender, or religion. We have found a powerful way to share our blessings and our hope is that you will do the same.
Your donation doubles in impact to help children and adults suffering from facial tumors, clefts, blindness, club feet and more.
Cleft Lips and Palates
October 11, 2012
In West Africa, Mercy Ships works in partnership with the Ministry of Health, local physicians and other charities to provide life-enhancing and, in many cases, life-saving surgeries to repair cleft lips and palates.
This condition is easily repaired in the developed world, but babies in the developing world have little access to corrective surgery. As a result. they suffer from malnourishment, and the children who survive are often rejected and abandoned. In addition, specialized surgical training is provided to local African surgeons.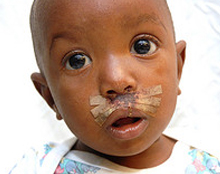 Click here to donate now and your gift will go twice as far to provide surgeries that:
•Remove facial tumors
•Repair clefts
•Restore sight to the blind
•Repair club feet and twisted limbs
Donate by phone:
800-772-7447
Published on Aug 15, 2013
60 Minutes
The world's largest civilian hospital ship travels the west African coast, restoring sight to thousands and bringing smiles to faces once disfigured by tumors. Scott Pelley reports.